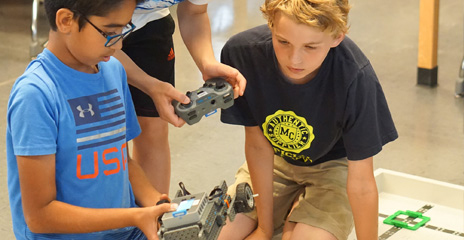 Summer Lab is back with a full program open to all - join us June 21-July 29 for a fantastically awesome summer!
At Lab, we know that learning is a year-round experience
, which can, and should, take many forms. Our Summer Lab programs offer so many different opportunities for children to learn, connect, and discover - from sports and theater to urban adventure and academics. The programs are fun and like everything at Lab, they are designed to inspire curiosity, creativity, and confidence in each child.
Summer Lab builds on over 70 years of summer programming at the University of Chicago Laboratory Schools.
Summer Lab brings together the resources and faculty of the University of Chicago Laboratory Schools with exciting new programs offered by experts from across the city.
In an environment that focuses on kids
, Summer Lab students and campers make new friends, learn new skills, play, make art, explore the environment, perform, and much, much more. All of this takes place in and around an unparalleled university setting that enriches our summer fun in incomparable ways and helps our Summer Lab children make the most of the promise of summer.
Summer Lab is open to all students and campers in the Chicago metro area entering Nursery-grade 12.
Students and campers may choose a single activity for all six weeks or vary their schedule between the first three weeks and the second three weeks. Mornings, afternoons, and Late Day childcare are available.