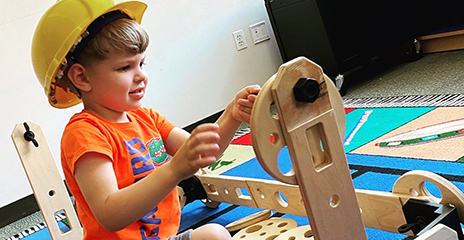 Registration is now open for 2021 Catherine Cook Summer Camps! Our camps are open to any rising preschool (age 3) through 8th grade child and provide a fun, healthy environment for kids to stay busy this summer.
DAY CAMPS (for rising Preschoolers [age 3] through 1st Graders)
Our new Summer Day Camps will feature three themed, two-week sessions from Monday, June 28 until Friday, August 6. Families will have the opportunity to choose to join us for one session or all three! Campers can expect to explore their creativity through arts and crafts projects and outdoor activities with friends old and new. Here's our daily schedule:
*
8:00 - 9:00 a.m.
|
Optional
Early Drop-Off
*
9:00 a.m. - 12:30 p.m.
| Camp Session
*
12:30 - 3:30 p.m.
|
Optional
Afternoon Extended Camp
*
3:30 - 5:00 p.m.
|
Optional
After Camp Care
June 28 - July 9
Once Upon A Summer
Join us for two weeks of myths, legends, and fairy tales. We'll play games outside, create projects relating to the stories we explore, and enjoy plenty of fun surprises in our imaginary storyland.
Register now!
July 12 - July 23
Animal Adventures
Whether you love sweet little puppies and kittens or creepy crawly insects, you'll love our Animal Adventures session. Have you ever heard of an axolotl or a platypus? We'll play games, learn about some interesting animals, and even meet a few in person!
Register now!
July 26 - August 6
Around the World
Grab your passport and come with us on a global adventure! How will we get there? What will we see along the way? No need to pack a suitcase - just bring your imagination and curiosity for our explorations abroad!
Register now!
AUGUST MINICAMPS
(for rising Junior Kindergarteners [age 4] through 8th Graders) Catherine Cook will continue to offer week-long MiniCamps throughout August, now open to children outside our school community! Course offerings will include student favorites like Photography, Magic Academy, and Math Jump Start, and will expand to include athletic and arts programming. Please
click here
to view the August MiniCamps course catalog and register today!
Please contact Susan Custer, Coordinator of Co-Curricular Programing, at scuster@ccookschool.org with any questions regarding Catherine Cook Summer Camps. We follow all state and local guidelines for a healthy school community, including the use of face masks and physical distancing.