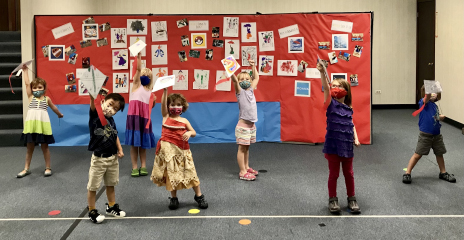 Ready for the spotlight? Join an American Eagle summer camp and discover the joy of theatre!
American Eagle Productions' virtual and in-person summer camps are catered specifically to campers ages 4-13, teaching elements of acting, singing, dance, and performance. Whether you prefer our 1-week themed camps, virtual camps, or decide to join the cast of our American Eagle Youth Production, campers are guaranteed to leave with a smile on their face!
Little Stars: 1-Week Camps (Ages 4-7)
Led by professional performers and teaching artists, our instructors engage students with drama games, improv, movement, music, and crafts all while building confidence, fostering empathy, encouraging collaboration, and providing a safe space for children to express themselves. The week culminates in a one-of-a-kind, original performance.
Popular themes include:
-The Lion King
-Moana
-Ninjas vs. Unicorns
-Pokemon
-Star Wars
-The Jungle Book
-PAW Patrol
-Mary Poppins
-Superheroes
-Coco
-Junie B. Jones
-Aladdin
-Frozen
-My Little Pony
-Zootopia
Triple Threats: 1-Week Camps (Ages 7-13)
Older campers collaborate with a professional teaching artist as well as each other to develop new characters, write an original script, and design their own props and/or costumes. These campers will also focus on honing their performance skills in acting, singing, and dance. The camp culminates in an original performance to share with family and friends.
Popular themes include:
-Hamilton
-Wicked
-Descendants
-Stranger Things
-Harry Potter
-Matilda
-School of Rock
-The Greatest Showman
-Six the Musical
Virtual Camps (Ages 6-13)
1-Week Themed Camps:
Our virtual camps are designed to get kids moving and using their imaginations from the comfort of home. Through fun drama games, improv, movement, and music, campers who choose our 1-week themed camps will spend the week developing unique characters, learning movement and music, and writing original stories.
Broadway Bootcamp:
For those campers who want to focus more on growing as a musical theatre performer or having better auditions, our 2-week Broadway Bootcamp is the summer intensive you've been looking for! Campers will focus on honing their skills each day in acting and monologue work, vocal training, and dance for musical theatre.
Daily Schedule
10:00 AM - 10:55 AM Acting
11:00 AM - 11:55 AM Voice
12:00 PM - 1:00 PM Lunch Break
1:00 PM - 1:55 PM Dance
All Virtual camps culminate in a one-of-a-kind performance.
American Eagle Youth Production (Ages 7-13)
Fantastic fun, a place in the spotlight, and friendship - that's what is in store for campers when they join the cast of the musical,
Charlotte's Web
. Based on the ageless children's classic, your child will grow in fitness, musicality, and creativity while participating in the creation of this fully-staged production staffed by members of Chicagoland Professional Theatre. Highlights of the experience include live music, costumes and props, and a live performance in a fun-filled theatrical production.
**American Eagle Productions has completed the Be Safe Chicago certification and will adhere to all city and CDC health guidelines to ensure your child remains safe and healthy during this time.