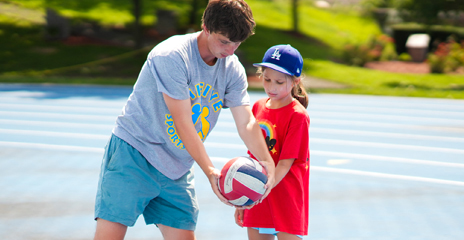 For you, it's about keeping your child active, healthy and happy. For them, it means no school, lots of fun and sports all summer long. And that's exactly what we're all about at Hi-Five Sports Camp Chicago-a sports camp offering a full menu of team sports designed for boys and girls from Pre-K (4 years old) to 8th grade. Hi-Five Sports Camp Chicago is about so much more than winning and losing... it is about teamwork, playing hard and playing fair. And it is about making new buddies and enjoying the comradery. A camp that is as encouraging as it is challenging. As safe as it is high-energy. And as instructional as it is fun.
Just like our campers, we eat, sleep and breathe sports. Our staff is filled with professional coaches, high school and college athletes, as well as experienced physical education teachers who promote the fundamentals through personalized instruction and positive reinforcement - all this while always maintaining a sense of humor and fun! No matter the skill level of the child, the goal remains the same: to have fun, while learning the value of teamwork and good sportsmanship. All of which results in a positive, self-esteem building experience.
Campers spend the day doing what they love most: participating in the major team sports like baseball, basketball, volleyball, soccer, flag football, lacrosse, tennis, Gaga, dodgeball and floor hockey. Campers learn to develop their skills through daily "teaching stations" and game play.
We specialize in tailoring every activity to age-appropriate levels for performance and safety. That means altering the size of football, baseball and soccer fields so they "fit" the younger player. It means lower volleyball nets and basketball hoops. It also means a padded floor hockey system for an extra measure of safety.
Flexible 2-8 Week Programs Available
Bus Transportation Optional
After-Camp Care available
Optional Hot Lunch Program
Regarding COVID-19:
For the past two summers, we were able to operate successfully. While the situation is extremely fluid as we know, we are 100% confident that we can overcome any obstacles. The entire Hi-Five Chicago family takes the health and safety of all our campers, counselors, and staff very seriously. We have monitored the COVID-19 pandemic very closely to fully understand how it might impact our camps scheduled for Summer 2022.
We are hard at work planning for a fun and jam-packed summer camp experience for each and every child, while keeping in mind the extremely-fluid health crisis. Please rest assured that we put an incredible amount of effort into planning, modifying our operations, and to ensure the safety of our staff, campers and camper families last summer and have every intention of doing the same for this summer.
A fully detailed "Communicable Disease Plan" (CDP) will be emailed to all registered camper families by June 1st. This plan will lay out our daily protocols to keep camp safe.