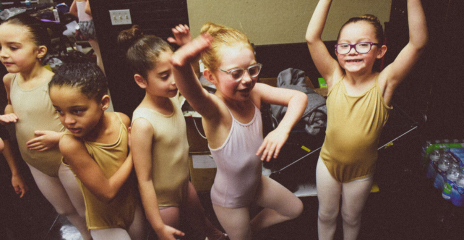 About Young Artists Playhouse
In Person at Music House, Humboldt Park, 1018 N. California and West Rogers Park, 2925 W. Devon
Kids ages 4-13 (camp is split into 3 groups: 4-6 year olds, 7-9 year olds, 10-13 year olds)
Monday through Friday 9:00am-4:00pm
Option for early drop off at 8am and late pickup at 5pm
As much of the day as possible will be spent outdoors in our large lot next door!
$475/week, $315/week for siblings
Register by May 17 for $50 off per week
Register for all 9 weeks for 1 week free
Young Artists Playhouse campers will spend each morning (9am-12pm) learning foundational music, dance, art, and theater skills to help them grow as young artists.
Campers will apply these new skills, guided by their teacher, in the afternoon hours ( 1pm-4pm) using their imaginations to create and collaborate with their campmates.
Campers will collaborate as a team to write songs and plays, create artistic masterpieces, design sets, and more. Campers will have a place to voice their creative visions and ideas in an encouraging, safe, and inspirational Young Artists Playhouse.
Campers of Young Artists Playhouse will:
LEARN AND EXPLORE foundational music, dance, art, and theater skills. All students will be able to learn how to dance, play an instrument, act, make art, make music in new ways, and learn a new language!
CONNECT with other campers - Every day will include time for our young artists to socialize, play, and connect with other artists their age
COLLABORATE on artistic ideas - Camp artists will be able to bring their interests to the table! This is a time for students to delve into their own interests and make this summer about YOU.
CREATE art that is performed every Friday at 4:00pm on our outdoor stage (no pressure to perform- perhaps you want to do the backstage set design, sound, or lights!) Every week there will be a performance, art show, and display of work that our artists accomplished throughout the week collaborating with their peers and camp leaders!
CATCH UP and be ready for the school year- Our structured day will mimic the schedule of a school day- but with more fun and time for connecting with others!