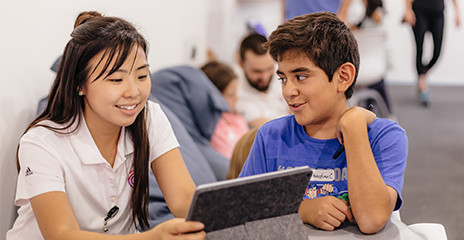 From creating video games and 3D models, to building and navigating robots around a futuristic lab, Codeverse summer camp is an out-of-this-world experience for kids ages 6-13!
This summer, launch your kids into a universe of fun and learning at our week-long day camps.
Spend a week exploring our interactive studio, creating multi-level video games, building real robots, designing 3D printed projects, learning to code, and more! The Codeverse summer camp program is designed for 1-8th graders and is packed with hands-on STEM activities and challenges for beginner and pro coders alike.
An interactive camp experience
The Codeverse studio is a futuristic, digital wonderland. Every aspect - from the furniture to the hardware - is designed to encourage play, inspire creativity, pique curiosity, and promote collaboration.
Each day of camp is assigned a theme (Game Development, Robotics, 3D Printing, Circuitry - to name a few) and is comprised of exciting and educational adventures, including:
Program concert-hall lights and speakers, robot arms, and TVs using real code. Bring the studio to life!
Build your own robot and compete in high-speed robot races on obstacle courses designed by campers.
Create jaw-dropping 3D printed designs with CraftBot.
Design multi-level video games. Play and share with friends and family!
Throughout the week, campers embark on explorations (field trips) to nearby businesses. Past explorations include: Apple Store, Children's Museum, and Whole Foods.
To cap it off, campers show off their coding creations to family and friends during
Demo Day
, a celebration that is held every Friday afternoon during camp.
Award-winning curriculum
At Codeverse, campers build games and apps, as well as program dozens of gadgets featured within the Codeverse studio, using KidScript. KidScript is a real programming language that draws inspiration from (and acts as a gateway to) other languages, including JavaScript, Ruby, Python, C++, and Visual Basic. It includes all the key concepts of programming and enables untethered creativity for each kid that attends camp!
Summer Camp Schedule
Weekly summer camps run Monday-Friday from 9am - 3pm (with complimentary early drop off at 8am and late pick-up at 4pm). Lunches, beverages, and afternoon snacks are included in the camp, with flexibility in dietary restrictions.
All studio locations:
Early Bird Pricing

Right now, Codeverse is offering $200 off 2020 Summer Camps until 3/31 with code EARLYBIRD-200. To reserve your child's spot, visit
https://www.codeverse.com/camps/