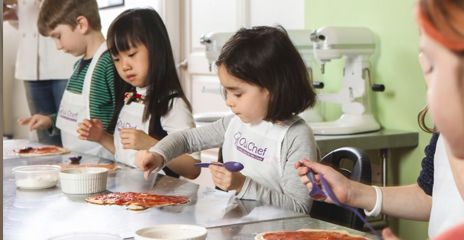 Summer Camp 2020
During each camp session campers will have a hands-on cooking experience creating individual recipes and then tasting their amazing creations. Each session will include a variety of cooking techniques and tools in order to continue to expose the campers to new culinary ideas and makes the campers much more willing to try new foods.
Camps are Monday-Friday from 1-4pm and have a fee of $325 per session
June 22-26- Road Trip USA 5-9 yo
June 29- July 3- Road Trip USA 9-15 yo

This week we will be making recipes from across the United States of America. From Chili and Biscuits to Pumpkin Pie and Baked Alaska and more. During this week we will explore all the wonderful recipes from all over the USA.
July 6-10- Pasta Camp 5-9 yo
July 13-17- Pasta Camp 9-15 yo

During this carb-loading week we will make a different pasta each day including spaghetti, ravioli and spaetzle each will their own unique sauce. We will also make breads, salads and desserts to accompany our daily pasta recipe.
July 20--24- Pastry Camp 5-9 yo
July 27-31- Pastry Camp 9-15 yo
August 3-7- Pastry Camp 5-9 yo
August 10-14- Pastry Camp 9-15 yo

We love Pastry Camp at Oui Chef! We will mix, knead, roll, whisk and decorate our way thru delicious recipes using flour, vanilla, chocolate and seasonal fruits.
August 17-21- Bread Camp 6-13 yo
During our week of bread camp we will make bread as well as make recipes that use bread. Sweet Cardamom Rolls, French Bread, Pretzels and Chocolate Banana Bread Pudding are some of the amazing things we will be making. Yum!