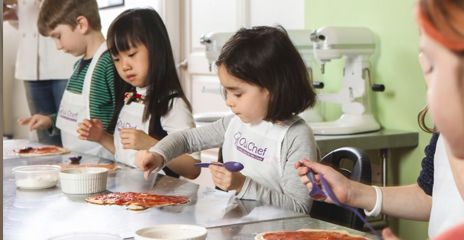 Summer Camp 2022
Summer Camp 2022 Camp is from 1-4pm each Monday- Friday (except for the week July 4 when it will be Tuesday- Friday).
Camps will be a fun and educational hands-on learning experience. Campers will do individual work creating a variety of recipes using varied ingredients and techniques! We are going to a have a deliciously good time!!
June 20-24, 5-9-year-olds- $335
June 27- July 1, 9-14-year-olds- $335
History of Food.
Learn recipes from when your parents and grandparents were little and before. We will also make food that is exciting right now along with learning where these ideas come from. We will do both sweet and savory recipes and hit on a variety of flavors. This will be fun and interesting.
July 5-8, 5-9-year-olds (no camp on Monday July 4)- $268
July 11-15, 9-14-year-olds- $335
July 18-22, 5-9-year-olds- $335
July 25-29, 9-14-year-olds- $335
Pastry Camp.
This favorite will never leave this list. All new recipes hitting on many pastry topics from bread, to custards, to cookies and pies. We will end the week making a geode cake.
August 1-5, 5-9-year-olds- $335
August 8-12, 9-14-year-olds- $335
Be our Guest.
During this week of camp, we make recipes so your kids can help you cook at your next party or family gathering. From canapes to appetizers to salad, entrees and dessert. We will do brunch parties and picnic parties and more. This week will be a PARTY!
August 15-19, 7-12-year-olds- $335
Making our Meals.
We will focus on specific mealtime foods that will help involve your kids in cooking at home. We will prepare items that are simple that they could prepare on their own or almost entirely on their own as well as food that might become a fun family activity. And this definitely will include desserts because desserts a meal, right?!