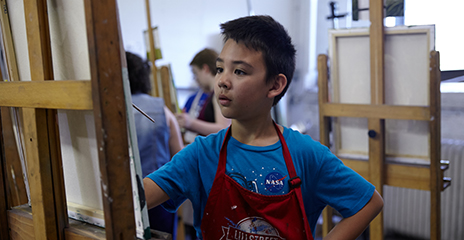 Lillstreet Art Center offers a wide variety of summer camps for children and teens ages 3-16 in multimedia and specialized art forms including pottery, movie making, photography, fashion design, jewelry, comics, painting and more. Each day, campers add to the lively Lillstreet community, working and learning alongside professional artists. Each student is seen as an individual with a unique voice. Instructors foster a relaxed and non-competitive environment in the classroom and everyone has lots of fun! At the end of each week, parents and guardians are invited to an end-of-camp art show, featuring all of the campers' hard work.
FEATURED CAMPS
With over 200 camps to choose one, there's something every young artist will enjoy! Explore some of our favorites below, and view our full summer schedule at lillstreet.com.
LITTLE FOODIES
Ages 3 - 5 years
Let's get cookin' in this messy and creative food-themed camp! Using clay, paint, paint, felt, papier-mâché and more, we'll use mixed-media ingredients and whip up an appetite!
JURASSIC ART
Ages 3 - 5 years
We're heading 150 million years into the past, back when dinosaurs roamed the earth. Join us and discover what the Jurassic period was all about.
LEGO CREATORS
Ages 6 - 8 years
Everything is awesome when campers make LEGO-themed art! You'll make LEGO head planters, fun clay characters, paintings, papier-mâché sculpture, and more.
MOVIE MAKING
Ages 8 - 13 years
Channeling our inner Speilberg! This dynamic camp will teach you all the important steps that go into making a film - from writing and directing, to acting and editing, to costume and set design.
METALSMITHING
Ages 10 - 13 years
From wind chimes to jewelry! There are so many projects to explore using copper and brass sheet and wire. Techniques such as saw piercing, hammering, texturing, cold connections and polishing will be demonstrated.
T-SHIRT FACTORY
Ages 12 - 14 years
Do you have drawings or designs that would look great on a T-shirt? You'll develop your own individual logos, drawings and clever sayings and screen print your own one-of-a-kind gear in our textiles studio.
SCIENTIFIC ILLUSTRATION
Ages 13 - 16
We'll examine insects, plants and other natural life in this illustration camp. A variety of drawing and illustration skills will be taught, including proportion, perspective, line, value, shading and stippling. We'll fill our sketchbooks with unique inspirations.
EARLY MORNING DROP OFF & EXTENDED CARE
Choose from a variety of options to ensure your artist gets an experience that coordinates with your busy schedule. Full and half-day camps are available as well as early morning drop off, aftercare and afternoon add-ons.