Winter can be cold and long, but there are plenty of Chicago area indoor play spaces and play cafes where you can let the kids run around and have fun. Here are some of our top picks for great play cafes and play spaces to stay warm during the coldest months. And this is only a sampling! Check out our Amusement/Play Spaces page for dozens of suggestions for indoor play spaces, fun centers and amusement destinations.

Always call your destination in advance of your visit to make sure that open play is taking place on the day and time of your visit.
Sponsored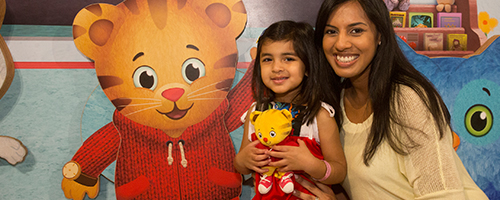 At the Intersection of Fun and Learning
DuPage Children's Museum is the time, the space, and the opportunity for children and their adults to take fun and learning to new heights! Build, wonder, discover, think, play, and more - dive into
AWEsome Water
, create a work of art in
The Studio
, build with real tools in the
Construction House
- the possibilities are endless.
Play, sing, explore, and pretend in favorite and familiar places in the traveling exhibit Daniel Tiger's Neighborhood: A Grr-ific Exhibit, open now through May 12, 2019.
At DuPage Children's Museum, play allows kids to make new discoveries, explore new spaces, share experiences, and see themselves and their world in new and exciting ways. Laugh, learn, and love spending time together on a Museum adventure!
Learn more...
---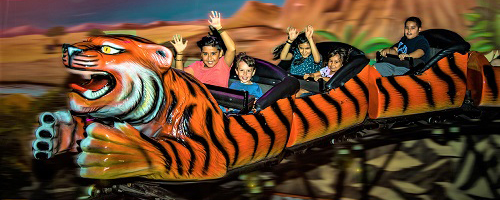 SAFARI LAND, Villa Park IL - Highly rated Indoor adventure
Safari Land in Villa Park, IL is the ultimate, INDOOR amusement park. Open seven days a week with 62,000 square feet of all age's entertainment, plus home of the largest year-round indoor roller coaster in Illinois. Offering eight amusement rides, over 100 arcade games and 12 lanes of bowling. Attractions include: Max Flight Simulator, Roller Coaster, Tilt-A-Whirl, Bumper Cars, Merry-Go-Round, Monkey Jump, Lion's Den Soft Play Area, Kiddie Go Karts, Video games, Cosmic Bowling, Restaurant and more! The perfect spot for birthday parties, field trips, or fun family outings. There is never a charge for parking or admission to walk around. For more information visit
www.safarilandfun.com/
.
---
Spend Chilly Winter in Logan Square's Hot New Playroom
Under the same ownership as Bucktown's award-winning Purple Monkey Playroom, Aubergine proudly brings drop-in playtime to Logan Square. Anchored by a crooked playhouse and punctuated by playroom staples such as a train table, Lego table, and slide, Aubergine provides 2,300 square feet of indoor, imaginative fun for the 0-5 set. Enjoy complimentary coffee, tea, and WiFi while your little ones ride on the see-saw, sell ice cream from a cart, or play dress-up. Weekly "extras" such as sing-and-play and craft time are included with drop-in admission. Day passes and memberships are valid at both Aubergine and Purple Monkey. For more information visit
https://www.auberginechicago.com/popup-playtime-1/
.
---
Play, Imagine and Create at Little Beans Cafe!
Little Beans Cafe is a full service cafe and interactive playspace with locations in Bucktown and Evanston. Little Beans offers daily drop-in play, classes, camps, events, food/drink and more. Little Beans Chicago is best for kids 0-6 years and features an imaginative playspace. Little Beans Evanston is best for kids 0-12 years and features an imaginative playspace, a ninja course and a gym. For more information visit
www.littlebeanscafe.com
.
---
Ball Factory
864 S RT 59, Naperville | (630) 445-8365
This indoor play space lets kids and parents play together, featuring a 4 level play structure with slides and obstacles, ball pit, ball blasting arena, interactive floor, kids tractor area and Imagination Playground. There's a special Parent & Tot gated area where kids under 4 can play. The cafe features a selection of lunch items, LAVAZZA coffee, gelato and snacks.
FireZone
1100 National Parkway, Schaumburg | (847) 824-3473
This firehouse for kids offers over 7000 square feet of firefighting fun in an interactive environment that provides a uniquely fun, hands-on look into the world of firefighting. The FireZone provides a safe, clean, fun, and engaging environment for children to play in and explore, and features a firehouse theme with real firefighters, fire engines, educational displays, firefighter activity stations and programming. Drop in play is available most Mondays from 10am - 1pm and Fridays from noon - 3pm. Check the web site for current drop-in schedule.
Gather
602 Davis Street, Evanston | (847) 859-2312
Gather's goal is to provide a space for growth, community, connection, and imagination. The play space includes an Art studio with large tables for painting, coloring, playing, and crafting; an imagination zone with items geared toward pretend play; and the "Nest," a home-y, calm space with toys catering to younger tots, as well as lots of books, and a big lego table. Gather also features drop-in music and language classes. You can enjoy complimentary coffee and tea, plus snacks and other beverages for purchase.
KidStreet PlayCenter at Grounds for Hope Cafe
2701 Maple Ave, Lisle | (630) 857-3355
KidStreet PlayCenter is an Outreach ministry of Trinity Green Trails and provides a friendly, safe, and clean place for families to have fun and make memories together. PlayCenter is a great way to engage your children, while enjoying coffee with friends. The three story playhous for ages 2-6 and Wonderhouse for ages 2 and under give little ones plenty to explore. Special daily programming includes Music, Crafts, STEM, Bible Exploration and more. Check the web site for the daily schedule.
Kids Town
1217 E. Butterfield Rd. Suite A, Wheaton | (630) 260-8545
Kids Town offers a safe and entertaining play place with over a dozen themed play areas that feature colorful decor, costumes and toys to encourage children's imaginations. The variety of themed play areas are designed to encourage imagination and offer an unforgettable experience!
Little Adventures Cafe
1111 N Western Ave., Chicago | (630) 857-3355
Little Adventures is a children's indoor playground that features structures and a space for children to have fun, explore and let their imagination run.
Peekaboo Playroom
206 S. Marion St., Oak Park | (708) 848-4815
Children between the ages of 0-6 years old can enjoy the variety of toys, play hide-and-seek in between the little house, read books in the book corner, play basketball in the indoor hoops, climb and slide in the clubhouse, build a city out of Legos and more.
Pickles Playroom
2315 W. Lawrence Ave, Chicago | (773) 293-7747
Pickle's Playroom is a multi-service Children's Activity Facility that combines a large interactive playroom, an inviting cafe and a fun children's salon. The space also offer a variety of classes to entertain kids of all ages.
Playroom Cafe
141 Randhurst Village, Mount Prospect | (224) 318-2108
A modern and unique 5,000 square foot space specifically designed for children 6 months to 6 years, or 48". The playground is thoughtfully outfitted with a variety of engaging equipment and toys that promote physical, constructive, creative and imaginative play. The Cafe offers a variety of coffee, tea, smoothies, ice tea, kids meals, paninis, salads, waffles and more.
Present Place
3701 N. Ravenswood Ave.#247-248, Chicago | (773) 697-7552
Present Place offers Indoor playground equipment with climbing structures for kids of various ages. Natural, battery-free toys to engage children cooperatively and organically. An enclosed area for infants and crawlers filled with toys and equipment to promote sensory development. The space offers complimentary coffee, tea and wi-fi to guests. Check web site for open play days and hours.
Purple Monkey Playroom
2040 N. Western Ave., Chicago | (773) 772-8411
Purple Monkey Playroom is a bright, nurturing destination that invites parents and caregivers to relax, connect with other adults, and enjoy free coffee, tea and WiFi while little ones explore. The 1,500 square foot playroom was designed with the education, enjoyment and safety of infants through preschoolers in mind.
Sod Room
1454 S. Michigan Ave., Chicago | (312) 922-3131
Sod Room is a unique, eco-friendly, indoor playspace that is committed to providing a healthy and meaningful play experience for children by selecting only safe, sustainable and responsibly made toys and materials for the playspace. Sod Room features recycled cork flooring, low VOC paint, and reclaimed wood and is uniquely designed to utilize as much natural light as possible.
The Treehouse
985 South Rand Rd, Lake Zurich | (847) 438-8887
The TreeHouse was created for kids and designed for parents' comfort, convenience and peace of mind. The 7,700-square-foot facility offers children a safe, multi-level climbing structure with swinging bridges, enclosed slides, padded mats and ramps, swings, and soft basketball court. Parents can relax in sight of their kids, and enjoy food, a gourmet espresso bar, and Wi-Fi.
Whimsy Play Cafe
282 McHenry Rd, Buffalo Grove| (847) 996-9603
This new play space is geared toward ages 6 months to 7 years, with a space designed to foster imagination, and active and creative play. A variety of classes are offered such as art, music, storytelling, yoga and more. The cafe offers treats like chicken nuggets, fancy cheese plates, yummy paninis and more, with coffee is roasted by Stone Creek (Milwaukee).