Summer is officially here! We've gathered up a list of Chicago's best festivals for kids and families. You'll find festivals and fairs taking place all summer long, in Chicago and in the suburbs and surrounding areas. And you can find even more festivals and other events in our Calendar of Events.

---
June 23-25
Long Grove Strawberry Festival
Downtown Long Grove, Routes 53 and 83, Long Grove
See web site for schedule.
Attendees of all ages can expect three days of strawberry-infused foods and drinks, carnival rides, family activities, and live music on three stages. All ages. $5 per guest, kids under 12 free. Fees for carnival.
Learn more...
---
June 23-25
Logan Square Arts Festival
Logan Square, Milwaukee and Logan, Chicago
Fri 5-10pm, Sat-Sun 12-10pm.
Featuring 30 bands over three days and the work of 70 local artists, makers, and artisanal vendors. FREE with suggested donation that benefits local non-profits. Free, donations appreciated.
Learn more...
---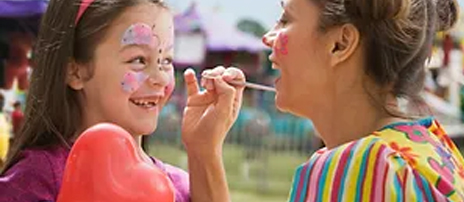 June 29-July 2
Northwest Fourth-Fest
Northwest Fourth, 5333 Prairie Stone Pkwy, Hoffman Estates
See web site for schedule.
Northwest Fourth-Fest is back! Join us for Live Entertainment, Fireworks, Carnival Rides, a free Kids Zone Presented by Wintrust, and more! Featuring a parade on Saturday at 9am, Fireworks on Sunday at 9:30pm, live entertainment every day, a free Kids Zone on Saturday and Sunday, and a Carnival running from Thursday through Sunday. See web site for schedule and activity pricing.
Learn more...
---
July 7-9
Square Roots Festival
Lincoln Square, 4400-4560 N Lincoln Ave., Chicago
See web site for schedule.
Square Roots brings together the best of Lincoln Square, Chicago, and beyond, with live music, family fun, local restaurants and vendors, and the best craft beer showcase of any Chicago street fest. Suggested Donation.
Learn more...
---
July 7-9
West Fest
West Town, 1800-2000 W. Chicago Ave., Chicago
Friday 5-10pm, Saturday and Sunday 12pm-10pm.
The Festival features local restaurants, food trucks, food vendors, West Town retail vendors, corporate sponsors, local artists and more. Kid Fest on Saturday and Sunday is a kid friendly event complete with its own vendors and live entertainment stage. Also Saturday and Sunday is Pet Fest, with a dog obstacle course, paw painting, pet retail and services booths and more. $10 optional donation.
Learn more...
---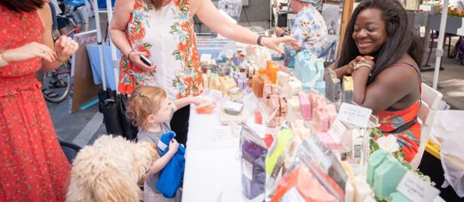 July 8-9
Southport Art Fest
Southport Corridor, Waveland and Southport, Chicago
10am - 7pm
Southport Art Fest will highlight a wide range art mediums including oil, acrylic, watercolor, jewelry, sculpture, photography, wood, glass, paper, metal, and mixed media at center stage all weekend long. Families will have the opportunity to bring their children and enjoy all that Southport Art Fest has to offer. A special Kid's area has been designed with interactive games and activities that will make for an unforgettable time. All ages. 10am - 7pm. Free.
Learn more...
---
July 21-23
Taste of Lincoln Avenue
Lincoln Park, 2500 N Lincoln Ave., Chicago
Friday 3-10pm; Sat-Sunday Noon-10 p.m.
Taste of Lincoln Avenue offers plenty of food and arts and crafts vendors, an amazing line-up from bands all over the Midwest, Arts & crafts galore, and a Kids' Carnival with non-stop activities for your littles including inflatables, arts/crafts and performances. $10 donation.
Learn more...
---
July 29-30
Chinatown Summer Fair
2200-2400 S. Wentworth, Chicago
10am - 8pm
This neighborhood street festival will open with a Lion Dance procession at 12:30 p.m., a welcome at 1 p.m. on Main Stage, followed by cultural performances. The fair will also feature a taste of Chinatown's restaurants, unique gift shops, and a children's area. Chinatown Summer Fair is a true celebration of Far East beauty and culture including food, art and music. Free.
Learn more...
---
August 4-6
Jeff Fest
Jefferson Memorial Park, 4822 N Long Ave., Chicago
Friday 5-10, Saturday and Sunday 2-10
Held in idyllic (and popular) Jefferson Memorial Park just west of the intersection of Milwaukee and Lawrence Avenues, Jeff Fest is a proud tradition in one of Chicago's most friendly communities. Beyond music and food, the Kids' Zone area on the north side of the park features a ton of cool activities for families. It's also where one will find the fest's groovin' "Community Stage." $10 for adults, kids free.
Learn more...
---
August 11-13
Retro on Roscoe
Roscoe Village, Roscoe and Damen, Chicago
See web site for schedule
Live music will play oldies and throwbacks along with popular hits to keep festival goers moving through the hot summer nights! The soundtrack for the annual Retro on Roscoe will be the bomb! The family area offers prime inflatables, delectable crafts, balloon artists, face painting, music, rides and more. $10 suggested donation.
Learn more...
---
August 19-20
Chicago Air and Water Show
North Avenue Beach, 1600 North, Chicago
10am - 2pm
The Chicago Air and Water Show presented by the City of Chicago is the largest FREE show of its kind in the United States. The show can be viewed along the lakefront from Fullerton to Oak Street, with North Avenue Beach as the focal point. Free.
Learn more...
---
August 25-27
Taste of Greektown
Greektown, 315 S. Halsted St., Chicago
Friday 4-10, Saturday & Sunday noon-10
Blending Old World traditions with a 21st century freshness, the tantalizing food and spirits from neighborhood eateries will again be the main attraction. There will also be plenty of music and entertainment including Greek bands and games for both kids and families. Opa! $10 donation.
Learn more...
---
September 16-17
West Loop Bavarian Block Party
West Loop, Washington Blvd.
Saturday 12-10pm, Sunday 12-8pm.
The Bavarian Block Party will center on an authentic celebration of German culture, complete with popular German foods such as bratwurst and pretzels along with traditional American fare. The Bavarian Block Party will similarly feature live music, including a mix of German polka bands as well as local rock and pop groups. $10 donation.
Learn more...