Our Camp Guide is packed with amazing Sports/Active camps for this summer to keep your kids physically engaged! Here we've rounded up some of this summer's top Sports/Active camps, with activities ranging from basketball to ninja training to soccer and more! Find some of the best summer sports camps here, and find a full range of options in our Camp Guide's Sports Camps page.
---
Featured Sports Camps:




West Loop Soccer Club
US Soccer Federation Licensed Coaches
1331 W. Adams St. , Chicago
Learn soccer from professional coaches! Year-round beginner friendly and highly competitive programs. Improve foot-skills, SAQ (speed, agility and quickness) and fine-tune your finishing skills all while making new friends and having the time of your life! Learn more...


---
Fit City Kids Summer Camp!
2540 W Lawrence Ave., Chicago
An experience kids will never forget, Fit City Kids' Summer Camp is an active camp that focuses on FUN through fitness, sports, creativity, and self exploration. Each day, campers will adventure through activities such as fitness games, sports, arts and crafts, creation, and plenty of free play! Campers bring a snack, lunch, and water bottle, and our amazing staff takes care of the rest. Please reach out to Camps@FitCityKids.com with any questions.
Learn more...
---
Play at KidzToPros Sports Summer Camps in Chicago
Multiple Locations, City of Chicago, Cook County West and Cook County North
Pick one sport or play them all this summer with KidzToPros! Our Sports Summer Camps for ages 4-14 are geared to engage campers' minds and bodies as they learn new sports, build on existing abilities and develop essential skills like teamwork, collaboration and strategy. Led by highly trained instructors, students can develop skills in Soccer, Basketball, or Tennis Camp, among others. KidzToPros Play It All Sports Camp is also a popular option that allows students to practice and play all of their favorite sports in one camp! Sign your future sports star up for a KidzToPros Sports Summer Camp and
save $50 using the code CK-50
!
Learn more...
---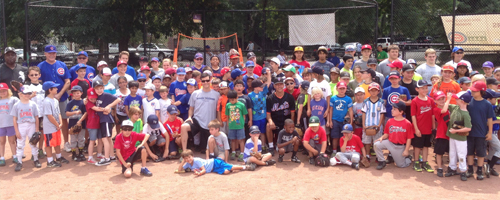 Lincoln Park Baseball Academy Baseball and Softball Summer Camp
2021 N. Burling St., Chicago
Lincoln Park Baseball Academy Baseball and Softball Summer Camp Oz Park-2021 N Burling St, Chicago Lincoln Park Baseball Academy (LPBA) is a Chicago based organization focused on baseball and softball instruction for all ages. Over 4000 youth baseball and girls softball players ages 5-13 have attended our baseball and softball camps since 2011. LPBA's expert training covers all key skills from hitting and pitching to defense and team dynamics through both individual and group coaching programs.
Learn more...
---
The Little Gym of Chicago Sports Camp
3216 North Lincoln Avenue, Chicago
The Little Gym® offers interactive themes which add a dash of imagination to your child's play. With our flexible schedule, you can customize your child's camp days to fit your needs - one day, several days or full sessions!
Learn more...
---
Wildcat Sports Camp - Northwestern Recreation
2311 Campus Dr., Evanston
Spend the summer with Northwestern Recreation! Our Wildcat Sports Camp welcomes children attending 1st - 6th grade to participate in diverse sports and activities while learning and growing through physical activity.
Learn more...
---
Pedalheads Bike Camps
Multiple Chicagoland locations
Our popular learn-to-ride bike camps for kids 3+ are best known for getting kids off training wheels and riding! Advanced bikers learn how to ride safely on the road or enjoy our trail riding camps.
Learn more...
---
i9 Sports Summer Camps
Three Locations, Chicago, Evanston and Glencoe
Empowering girls ages 4-14 of all abilities through sports. Learn and play multiple sports daily in a warm, fun and spirited environment. Confidence-building programming designed to shape girls strong in body, mind and team.
Learn more...
---
Find more options in our Camp Guide's
Sports Camps page
.