Our Camp Guide is packed with incredible Creative Camps to keep your little one's creativity going all throughout the summer months! Here we've rounded up some of this summer's top Creative Camps. You can find a full range of options in our 2023 Camp Guide, including creative camps for art, dance, music and theater.
---
Featured Creative Camps:




Cooking Camps at Schoolhouse Kitchen for Spring Break and Summer are so fun!
Kids will love baking and cooking in our beautiful kitchen studio each day. Learning new recipes, crafting, playing games and making friends is the perfect way to relax and learn. Young chefs are so happy to bring home what they made to share with you and you'll enjoy trying our kid approved recipes at home with them, too. Schoolhouse Kitchen is the perfect place to explore creative recipes, try new foods and flavors, and learn valuable skills that inspire a lifetime of fun in the kitchen. 1/2 day, full day and single day camps are available. Ages 5-11 Day Camps & T/ween Summer Cooking Camps. Now! At three locations: RIVER FOREST, PORTAGE PARK + WICKER PARK (opening June!)
Learn more...


---
Level up at KidzToPros STEM Summer Camps in Chicago
KidzToPros Summer Camps offer engaging STEM, Arts & Sports options for ages 4-12. Set your student up for success in today's tech-based world with STEM Camps. KidzToPros incorporates an engaging curriculum with real-life skills like coding, game design, robotics and more. Aspiring young artists are building their skills at Art Camps! Whether your young creator enjoys visual or performing arts, music or film, KidzToPros has a Summer Camp option they will love! Sports Camps engage campers' minds and bodies as they learn new sports and build skills like teamwork, collaboration and strategy. Led by highly trained instructors, students can participate in Soccer, Basketball or Tennis Camp.
Learn more...
---
Get Laughing This Summer at Chicago's Funniest Comedy Camp!
Some of the world's funniest superstars got their start at world-famous comedy launching pad The Second City, and your child can be part of that all-star list, too! We welcome all types from all experience levels, and programming is led by top-notch performers and instructors who are experienced working with young students. Summer comedy camps are for kids ages 7-18.
Learn more...
---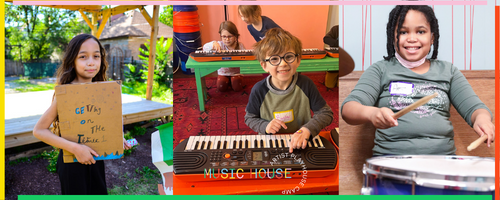 Make Music, Dance, Theater & Art Every Day at Artist Playhouse Camp! Register by April 30 for $25 off per week!
Young Artists Playhouse Campers (ages 4-12) will spend their days having fun being fully immersed in music, dance, art, and theater classes. Campers will focus on building skills specific to each learned art form and take what they learned to create a piece that is performed for parents at the end of the week! At Young Artists Playhouse Camp, we put fun first. Campers have time to socialize and make connections, collaborate artistically, and get creative with one another. At the end of the week, campers will put on a performance for their parents to display the work that campers created throughout the week. Campers are split up based on age.
Learn more...
---
Music Theatre Summer Camp with Porchlight for Ages 4-17
Calling all Broadway-loving singers, actors, dancers, and writers! Join Porchlight - Chicago's home for music theatre - and learn from the experts all about music, drama, dance, writing, and more while practicing teamwork, communication, and self-confidence. Camp meets at the DePaul School of Music and students will perform for family and friends on the last day of camp! Actors aged 4-17 join us for camps from 9am - 3pm each day. Payment plans and financial aid are available and more information, including registration, can be found on our website.
Learn more...
---
Calling all Dreamers - Purple Monkey Playroom Can't Wait to Create with You!
What is a "Dreamer?" There is a "dramatic" in everyone. Sometimes we just need a little help getting comfortable enough to share it. Through the art of theater, campers will learn the process of exploration and creativity through scriptwriting, set design and of course acting - no experience necessary! They will learn to push themselves to grow, work with one another and ultimately be able to see themselves in new ways. Our nurturing camp is grounded in Montessori-based methods. We follow the child at their own pace and simply help guide them to the finish line. And, of course, summer is for fun and sunshine so all non-rainy days will be spent outdoors, with built-in field time at nearby Holstein Park.
Learn more...
---
Summer Art Adventures at the Paintbrush
ARTsy kids ages 4-10 will love spending their summer weeks immersed in ART at The Paintbrush. Kids learn by doing. Explore ART through a variety of approaches including drawing, painting, ARTist inspired projects, weekly tie-dye day and slime day, games and more! Our ART in the Park program for kids 5-12 takes kids out into Lincoln Park to discover, observe, draw and paint the beautiful artistic aspects of our city from animals to architecture, flora and fauna.
Learn more...
---
---
Find more options in our
2023 Summer Camp Guide
.