STEM Camps have been some of the most popular summer camps in recent years, and this year offers plenty of options. We've rounded up some of this summer's best with options covering engineering, robotics, digital art, 3D modeling, Minecraft, Roblox, Adobe and more. Find the best science and technology STEMS camps here, and find a full range of options in our Camp Guide's Science/Technology Camps page.
---
Featured STEM Camps:



Snapology Summer Camps Chicago
Voted this year's #1 children's enrichment program. Children receive the full STEAM experience using the world's #1 toy, LEGO's. Kids ages 3-14 will enjoy indoor and outdoor activities while making new friendships in Themed camps that are Minecraft, Star Wars, or Harry Potter inspired; Animation Magic; Robotics; Engineering and more! Camps located on the north side of the city and downtown. Parents are ready and so are we!
Receive $100 OFF Full Day camps and $50 off Half Day camps NOW till the mid April
Learn more...

---

iD Tech: Where Kids & Teens Learn From the Best
Register today for Summer 2022! We can't wait for your child to walk the halls of their dream campus, bond with new friends and mentors, and experience the magic that's made us the world's #1 tech camp for over two decades. With prestigious destinations nationwide - including programs held at GEMS World Academy - your child can expand their vision of what the future holds. Weeklong and two-week sessions for ages 7-18 in coding, game dev, robotics, creative arts, and other topics empower kids to develop skills, flex their creativity, and experiment with the latest tools. And with 40+ courses, you can find the perfect learning experience suited to your child's age, skill level, and interests.
Learn more...

---

Noggin Builders STEM Camps
Send your child on a STEM Adventure this summer! Kids become explorers and creators at Noggin Builders STEM Camps. How do you build a dunk tank? How do catalysts change chemical reactions? What kinds of challenges would you create if you designed an escape room? These are just a few of the questions kids explore in Noggin Builders camps, where they dive into different STEM-related themes each week and follow their curiosity along new pathways. A new theme and different activities each week will keep your budding scientist or engineer engaged all summer long. Noggin Builders has flexible options to meet your summer needs. Sign up by the week with half day, full day, and extend day options. Sign up for multiple weeks for a discount.
Learn more...

---

Level up at KidzToPros STEM Summer Camps in Chicago
KidzToPros' STEM Summer Camps will set your student up for success in today's tech-based world. KidzToPros incorporates your child's existing interests into an engaging curriculum that teaches skills like coding, game design, robotics and more. Popular options include Minecraft Coding & Game Design, LEGO Robotics and Wonder Robotics and more. In these camps, students create playable video games, functioning robots and other practical applications of their new STEM skills. It's never too soon to start on STEM. Explore hands-on STEM options for campers ages 4-14 and save $50 with code CK-50 on your KidzToPros STEM Summer Camps today!
Learn more...

---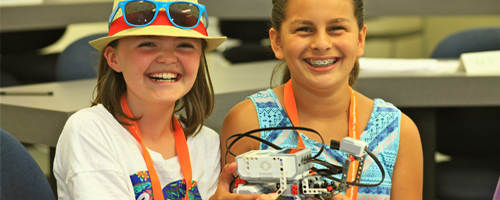 Spring Forward with Center for Talent Development at Northwestern University!
Love science fiction? Engineering? Biology? Center for Talent Development at Northwestern University's academic enrichment programs allow students to explore topics of interest in depth guided by experienced instructors. Explore courses like Astrobiology, Mathemagicians, Engineering for the Future, and many more! Course formats include both in-person and online program options. The application for both spring and summer are now open. Discover more at CTD!
Learn more...

---

Register now for the summer of a lifetime at University of Chicago Summer Lab!
Our Summer Lab programs offer opportunities for children to learn, connect, and discover-from sports and theater to urban adventure and academics. Summer Lab builds on over 70 years of summer programming at the University of Chicago Laboratory Schools, bringing together the resources and faculty of the Lab Schools with exciting new programs offered by experts from across the city. Summer Lab is open to all students and campers in the Chicago metro area entering Nursery-grade 12. You may choose a single activity for all six weeks or vary schedules between the first three weeks and the second three weeks. Mornings, afternoons, and Late Day childcare are available. Join us June 21-July 29 for a fantastically awesome summer!
Learn more...

---

Find more options in our Camp Guide's Science/Technology Camps page.