The ChicagoKids.com 2021 Camp Guide lets you find the perfect camp for your little ones this summer. Our Camp Guide is organized by different types of camps, including art camps, dance camps, cooking camps, music camps, STEM and science/technology camps, theater camps, sports camps and more. Below are highlights of some of the featured camps you'll find in this year's Camp Guide.
Featured Camps:



Red Arrow Camp for Boys - Woodruff, WI
Don't wait to be a great man. Become a great boy!
Red Arrow Camp offers a traditional, single-session 7-week summer camp experience for boys ages 7 to 16. Located on the shores of Trout Lake in Wisconsin's Northwoods. Built on 100-year-old traditions, we offer our 95 campers an escape from modern-day stressors. At Red Arrow, our boys unplug, leaving behind their technology-driven routines. Televisions are replaced by pine trees, sports fields, and the inviting, glimmering expanse of Trout Lake. Laptops and iPhones are abandoned in favor of ping pong paddles and canoe paddles, and video games give way to real-life adventures in the wilderness of the Northwoods. Learn more...

---

Porchlight Music Theatre Summer Camp
Join us in-person or virtually for ages 7-17!
Calling all Broadway-bound singers, dancers, and writers! Enter the world of music, drama, dance, writing, and more while practicing teamwork, communication, and problem-solving. Campers will create a brand-new musical and perform for family and friends on the last day of camp. All camps will meet 9:00 am - 3:00 pm daily with the option to add aftercare until 6:00 pm. Each two week session's tuition is $650 with scholarships, payment plans, and financial aid available. In-person camps will have a maximum of 10 campers for maximum safety. If you sign up after the in-person camps have filled or would prefer a virtual experience (or live far away!) join us for virtual camp via zoom! Learn more...

---

West Loop Soccer Club
US Soccer Federation Licensed Coaches
Learn soccer from professional coaches! Year-round beginner friendly and highly competitive programs. Improve foot-skills, SAQ (speed, agility and quickness) and fine-tune your finishing skills all while making new friends and having the time of your life! Learn more...

---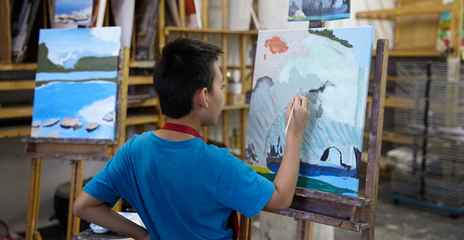 Lillstreet Art Center Summer Camps
Week-long camps begin every week, June 14 - August 30
Children and teens ages 3-16 can learn pottery, movie making, photography, fashion design, jewelry, comics, painting and more at Lillstreet Art Center. New camps are offered weekly all summer long! Learn more...

---

Smart Love Preschool Summer Camp
Summertime Fun for Children Ages Two to Six
Children love summer at Smart Love! Embodying the joys of the season, children experience our play-based approach both indoors and outside with fun weekly adventures like Discovering Dinosaurs, Incredible Insects, Fantastic Farmers, and more! Smoothies, pizzas, and butterflies! Included in our summer program, is our seed-to-table Nature & Garden Program. Children relish in taking care of our vegetable and nature gardens by planting seeds, taking care of worm beds, harvesting the fruit, making delicious food, and even watching caterpillars turn into butterflies and then setting them free! Your child will flourish at Smart Love because of our high quality program designed for young children. Our highly trained teachers focus on children's social and emotional development - propelling exploration, discovery, and smiles! Learn more...

---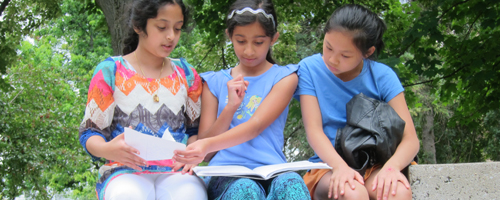 Center for Talent Development (CTD) at Northwestern University
Fill Summer with the Joy of Discovery at CTD!
This summer, encourage your child to dig deeply into a subject of interest, build upon their academic strengths, and connect with a global community of peers! CTD has a vast array of online program offerings featuring fast-paced, advanced enrichment and credit-bearing courses, single and multi-week programs, and flexible asynchronous and live program options. Courses are available in a variety of subject areas, including engineering and design, writing, math, and leadership and service learning. CTD's expert instructors differentiate instruction, facilitate rich discussion, and teach students to use critical and creative thinking skills to address real-world problems. Learn more...

---

American Eagle Productions
Performing Arts Camps in Chicago and Naperville, Virtual & In-Person
Explore the magic of theatre with American Eagle's summer performing arts camps! Led by professional teaching artists, our virtual and in-person summer camps are catered specifically to kids ages 4-13. Campers hone skills in acting, singing, and dance while playing games, socializing with peers, and performing for audiences. Whether you prefer our 1-week themed camps, virtual camps, or decide to join the cast of our American Eagle Youth Production (Charlotte's Web), campers are guaranteed to leave with a smile on their face! American Eagle Productions has completed the Be Safe Chicago certification and will adhere to all city and CDC health guidelines to ensure your child remains safe and healthy during this time. Learn more...

---

Kids Clay Room Summer Pottery Camps
Explore the wonderful medium of Clay!
Join us for a creative, messy and unique camp experience! Children explore different clay techniques to create and paint fun ceramic projects. Pinch, coil and slab techniques are used to make different projects each day. Clay Handbuilding Camps are for ages 5 and up. Wheelthrowing for ages 10 and up. No experience necessary! Learn more...

---

School of Rock Arlington Heights
Come celebrate hits from the musical soundtrack of the hit show "Stranger Things"! Focusing on 1980's ! The music in Stranger Things doesn't just represent how the characters are feeling and the overall mood of certain scenes - it represents a decade many reflect on with a great deal of fondness and no small amount of nostalgia. ... There will be a performance on Friday. Learn more...

---

Bach to Rock - Summer Camps!
Make your summer rock with virtual and in-person camps
At Bach to Rock summer camps, children can learn to play guitar, piano, ukulele, or drums and also learn to sing, produce music, learn to write songs and DJ. Always a hit with both kids and parents, no experience necessary. Children will love Bach to Rock's amazing summer camp programs! In-person locations in Arlington Heights, Naperville and Northbrook. Learn more...

---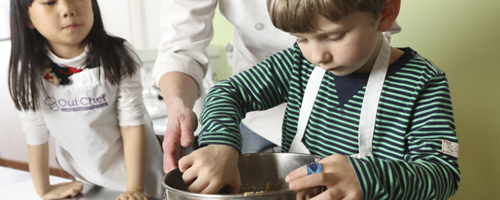 Oui Chef Summer Camps
A Hands-on Educational Cooking Experience
Oui Chef camps are a fun and educational hands on experience with kids doing individual work. Camps include International, Pastry, Bread and Fall Foods. Camp sizes are small and Oui Chef continues to take the recommended COVID safety precautions. We hope you will join us in our kitchen! Learn more...

---

Swift Nature Camp
Where Nature Is Fun & Kindness Matters!
Swift Nature Camp is an overnight nature camp for boys and girls ages 6-15. Our focus is to blend traditional summer camp activities while increasing a child's appreciation for nature, science and the environment.Swift Nature Camp offers traditional summer camp activities along with an environmental focus. Campers enjoy an active Nature Center, Pet Zoo, and Department of Natural Resources sponsored programs, plus recreational activities that include canoe and backpack trips, horseback riding, swimming, arts & crafts, team courses, archery, sailing, water skiing, tubing and sports. Learn more...

---

In-Person Sumemr Art Camps at The Paintbrush
In-Studio and outdoor ART in the Park camps for little artists ages 5-11.
The Paintbrush offers safe summer camp options for your art-loving kids. Adapted to meet the needs of Covid19 safety guidelines, our camps offer a safe, fun, art adventure for your kids this summer. Kids will learn about art through a variety of hands-on approaches, including skills, artist-inspired projects, games and more. Small groups, masks on, socially distanced. In-studio camps allow kids to explore art from a variety of perspectives and multiple projects each day; outdoor social-distanced lunch break. ART in the Park takes your kids to locations in Lincoln Park to discover, draw and paint; supplies included. Learn more...

---

CodeWizardsHQ Live Online Coding Program
Learn to code live, online with the most effective live online coding program!
Description - Learn to program from the experts this summer! CodeWizardsHQ has 5+ years of online programming education experience. Their proprietary tools, refined online teaching methods, and genuine educators make them the best online coding program around. Their extensive support network of students and teachers alike helps students feel connected, motivated, and supported throughout their journey. Three week summer courses or one week summer camps available. Students learn Python, Scratch, HTML/CSS, JavaScript & more. Certifications are awarded upon course completion. Courses start a beginner friendly level and placement tests are available for those with experience. Learn more...

---

Virtual Tech Camps from iD Tech
The perfect way for kids to sharpen STEM skills and bond with new friends, all from the comfort of home.
With the highest quality remote instruction on the planet, your child can unlock tech brilliance and create an exciting project. Structured, weeklong sessions available now in multiple time zones (5 consecutive days, Monday-Friday) with the hottest curriculum in Python, Java, Minecraft, Roblox, Unity, Adobe, 3D modeling, and more. Average of 5 students per instructor, blending personalized learning and time to socialize with new friends, plus a balanced schedule including 2 hours of live instruction and peer collaboration + 2 hours of self-paced project development per day. All the magic of camp including games, challenges, and legendary iD traditions you can't find anywhere else. Learn more...

---

Ovation Academy for the Performing Arts
Summer Camp 2021
Unleash your child's inner star at Ovation Academy for the Performing Arts! Our popular summer camps invite kids to explore the exciting world of musical theater while making friends, developing new skills, and working together to create a final performance to share with families. Professional polish meets typical summer fun with our dedicated, high-energy instructors - many of whom are working industry professionals. Performers will become spontaneous, confident, independent thinkers whose creativity has the space to shine. Whether just starting out or continuing their performing arts journey, Ovation is sure to spark your child's passion for theatre! Our most common refrain on the last day of camp is, "We can't wait to come back!" Learn more...

---

Pedalheads Bike Camps
Get your kids off training wheels and riding safely on the road!
Finding the right activities to keep your kids active this summer is not the easiest during the pandemic, but Pedalheads has got you covered with their learn-to-ride bike program for kids 3-12! Their week-long day camp specializes in helping kids get off training wheels and ride safely on the road. In the time of COVID-19, try a camp that is run outdoors and provides inherently more physical distancing since the kids are on their bikes. To ensure the health and safety of all camp participants, Pedalheads will also continue to implement their COVID-19 plan that proved to be successful in 2020 with zero reported COVID-19 transmissions in all their locations. Register today! Learn more...

---
Find tons of great 2021 Summer Camp options in our full Camp Guide!