2019 Guide to Great Fall Classes
Posted: August 02, 2019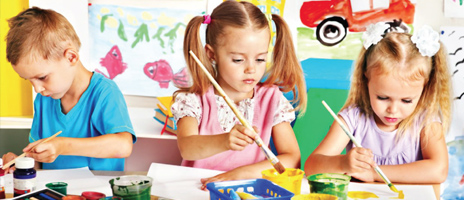 School is just around the corner, and registration has already gotten underway for many of great local fall Classes! See some of our Featured Fall Classes below, that represent a sampling of some of the great fall classes that you'll find in our Class Guide. Find a full range of fall class options in our Classes & Activities guide, on topics ranging from STEM classes, to art classes to theater classes and more.

---
The Little Gym of Chicago - Register Now! 2019-20 Season
Our professionally developed, non-competitive curriculum uses gymnastics to build motor-skills while having fun and simultaneously fostering enhanced emotional, intellectual and social skills. Each child receives individualized attention from trained instructors, and progresses at their own pace in a positive, nurturing environment. We offer developmentally appropriate classes for every stage of your child's development-from 4 months to 12 years, including sports skills, gymnastics, dance, and parent/child classes. Seasonal classes start September 2.
Learn more


---
Enroll Now: Child Care & Preschool Programs
Kiddie Academy is an academically-focused preschool with several locations in the area and offers individualized learning to create a foundation for success in kindergarten and beyond. The program is designed to introduce and facilitate activities that develop the skills needed for elementary school through our proprietary Life Essentials®curriculum. We don't take a single moment of your child's growth potential for granted. We offer enrichment programs, meals & snacks, highly qualified teachers, a caring and safe environment and much more.
Learn more


---
Cooking Classes for Ages 4-13
Join us for an action-packed weekly cooking class empowering chefs to be super fast, super strong, super healthy, and super happy, one day at a time. We'll taste colorful and delicious superfood ingredients, build our culinary super powers, and perfect our techniques. Featuring both savory and sweet recipes from Samosas to Veggie Pot Pies, and Molten Lava Cakes to Zucchini Choco-Chip Cookies. Options available for ages 4-13.
Learn more


---
Register Now for Classes at Windy City Fieldhouse
Windy City Sports Academy Fall Classes and Leagues - Boys & Girls (Ages 3-13)
After-school and weekend youth classes and leagues at Windy City Fieldhouse are now open for registration. Fall programming runs from September 3rd-November 2nd including the Windy City Redhawks Boys Travel Basketball. Programs focus on learning rather than winning, allowing children to develop sports skills in a safe, fun and encouraging environment. Fall leagues include a NEW Game Time Basketball League plus registration is open for its Winter Soccer League running November 15th - February 7th.
Learn more


---
Register today for Emerald City Theatre's Fall Classes - Now serving ages 2-15!
Register today for Emerald City Theatre's Fall Classes 2019 for ages 2-15! Join our professional teaching artists for inclusive, ensemble-based instruction focused on self-confidence, collaboration, creative thinking, and having fun! This year's titles include Superheroes, Mary Poppins, Jr., and more! Classes begin September 16, 2019. Each class includes a final showcase for family and friends! Register online at EmeraldCityTheatre.com or by phone at 773.529.2690.
Learn more


---
Kids Science Labs - Hands On STEM Classes
Multiple Locations, Chicago and Suburbs
Kids Science Labs offers engaging hands-on science classes based on questions that kids ask everyday with themes ranging from Little Doctors to Outer Space. Weekly STEM classes are offered for kids ages 2-12 yrs old from Tuesday-Saturday. In the 75 minute classes students are able to use their natural creativity, while full time teachers engage them in problem solving, creative design, and critical thinking to deepen their understanding of core science principles while having fun. Try the award winning classes your kids will love, classes begin Sep 10th. Register today.
Learn more


---
Fun & Educational Classes For Toddlers
1927 W Belmont Ave, Chicago
Our program for 2 & 3 year olds provides fun and educational classes focused on first time separations, classroom skills, early academics, and positive social interactions. Our theme based curriculum guides students in the exploration of the world around them through play, music, literature, art, and circle time activities.
Learn more


---
Tot Rock and Kid Rock - Classes for 1-5 years!
Tot Rock and Kid Rock classes are for 1-5 year olds at park districts in over 60 communities throughout the Chicagoland area. For 24 years, Rock 'n' Kids has introduced young children to the wonderful world of music, while encouraging a positive attitude and increasing self-confidence. Based on a unique curriculum, each class includes activities involving songs and rhymes, basic dance steps and movements, fine and gross motor skills, rhythm instruments and movement props, creative play, socialization and fun! Sing, dance, play and learn with us today!
Learn more


---
Hands-on STEM classes at Noggin Builders
At Noggin Builders, children build creative problem solving skills through fun, hands-on classes in STEM. Preschoolers engage in early math, science and literacy skills as they stretch their imaginations and practice working together. Children in grades K-2 explore a variety of topics in STEM Explorers, and children in grades 3-8, can design and build in Inventors Club or explore Robotics and Coding. Through Noggin Builders' open-ended design projects, your child will explore STEM by building, experimenting, and collaborating.
Learn more


---
Second City Training Center Kids Classes
The Second City Training Center offers a smorgasbord of classes for kids and teens ages 4-18. Whether a child is a class clown, an aspiring actor, or a little shy, they'll build confidence and creativity through the very same improv games fundamental to The Second City's unique style of comedy. Classes led by trained faculty members include improv, acting, clowning, stand-up, music, writing & more. Specialty programming is available for teens with anxiety or who are on the autism spectrum.
Learn more


---
Codeverse - Where Kids Learn to Code
Explore a world full of endless possibilities, fun, and creativity at Codeverse - Chicago's best interactive coding studio for kids ages 6-13! Codeverse is a modern, high-tech studio where kids learn how to code, build apps and video games, and interact with top-notch technology including, professional-grade sound and light equipment and 3D printers.
To celebrate the start of the school year, sign up for the Codeverse Crew membership and receive $100 OFF your first month!
Learn more


---
Multimedia Art Classes at Lillstreet
Lillstreet Art Center's Kidstreet program offers artist-led classes and workshops for ages 1-16. This fall, students can learn drawing, painting, pottery, sewing, jewelry making, and more-building social, critical thinking, and technical skills along the way. Your child will create fearlessly; Our teachers provide a guided learning experience designed to maximize personal creativity in a relaxed and non-competitive environment. Classes begin the weeks of September 9 and October 14. Register by August 26 for up to $20 off!
Learn more


---
Cooking Classes for ages 18 mos-14 yrs
2864 N Lincoln Ave & 2337 W North Ave, Chicago
Fill your belly, expand your taste buds, and pick up some mad kitchen skills! Join in the hands-on cooking classes at The Kids' Table - Chicago's premier cooking school for kids & families. Kids of all ages discover that cooking is fun! And "real food" is not just something our body needs - it tastes really good. Come cook up a different delicious recipe each week, like Build-Your-Own Pizza, Spiced Apple Cupcakes & Pineapple Fried Rice. For ages 18 mos - 14 yrs.
Learn more


---
Year-Round Soccer for Ages 2-12
2864 N Lincoln Ave & 2337 W North Ave, Chicago
At our training sessions you can hear laughter and words of encouragement while children are trying to mimic the moves of their coaches. We offer beginner friendly and highly competitive programs. Our staff of US Soccer Federation nationally certified coaches ensures that each student receives technical and tactical instructions in a positive environment. We foster a culture that encourages commitment, leadership, sportsmanship and resolve. Spots fill up quickly, don't miss the fun and register today!
Learn more


Find more options in our Classes & Activities guide.