2018 Guide to Great Fall Classes
Posted: August 09, 2018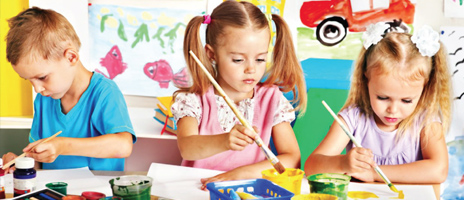 School is just around the corner, and registration has already gotten underway for many of great local fall Classes! See some of our Featured Fall Classes below, that represent a sampling of some of the great fall classes that you'll find in our Class Guide. Find a full range of fall class options in our Classes & Activities guide, on topics ranging from STEM classes, to art classes to theater classes and more.

---
The Little Gym of Chicago - Register Now! 2018-19 School Year
Our professionally developed, non-competitive curriculum uses gymnastics to build motor-skills while having fun and simultaneously fostering enhanced emotional, intellectual and social skills. Each child receives individualized attention from trained instructors, and progresses at their own pace in a positive, nurturing environment. We offer developmentally appropriate classes for every stage of your child's development-from 4 months to 12 years, including sports skills, gymnastics, dance, and parent/child classes. Seasonal classes start September 3.
Learn more


---
Taste Buds Kitchen - Fall Cooking Classes for ages 2-13
Cooking shows have nothing on Taste Buds Kitchen's tasty cooking extravaganzas. From Sept 10-Nov 19, join us as we cook our way through mystery baskets and surprise ingredients to dazzle our palates and inspire our budding chefs. Featuring both savory and sweet recipes from our signature Zucchini Flatbread to Veggie Spring Rolls and Banana Pudding. Options available for ages 5-13.
Learn more


---
The Paintbrush - ART Classes, Camps, pARTies and more!
Classes are the perfect supplement to a good school curriculum. Build skills, learn about artists and their history, become adept and focused, improve self-esteem and learn to understand and love art! ART Classes for kids ages 12 months to 12 years, plus this Fall our new Spanish Immersion Art Classes for kids ages 1-8. Monday-Saturday. Homeschooler classes too! So much FUN to FALL into!
Learn more


---
Second City Training Center Kids Classes
The Second City Training Center offers a smorgasbord of classes for kids and teens ages 4-18. Whether a child is a class clown, an aspiring actor, or a little shy, they'll build confidence and creativity through the very same improv games fundamental to The Second City's unique style of comedy. Classes led by trained faculty members include improv, acting, clowning, stand-up, music, writing & more. Specialty programming is available for teens with anxiety or who are on the autism spectrum.
Learn more


---
Hands-on STEM classes at Noggin Builders
At Noggin Builders, children (ages 2-14 years) build creative problem solving skills through fun, hands-on classes in STEM. Preschoolers engage in early math, science and literacy skills as they stretch their imaginations and practice working together. Children in grades K-8 can choose topics like STEM Explorers, Math Playground, Gadget Design Club, and Crazy About Coding. Through Noggin Builders' open-ended design projects, your child will explore STEM by building and collaborating.
Learn more


---
Register Now for Classes at the NSYMCA
The North Suburban YMCA offers a comprehensive line up of classes and programs for the entire family this fall. Sports, fitness, dance, gymnastics, art, swimming, New S.T.E.A.M Classes and more, you can find it at the Y! We have classes for preschool kids to high school kids. The Y is inclusive to all and financial assistance is available.
Learn more


---
Tot Rock and Kid Rock - Classes for 1-5 years!
Tot Rock and Kid Rock classes are for 1-5 year olds at park districts in over 60 communities throughout the Chicagoland area. For 24 years, Rock 'n' Kids has introduced young children to the wonderful world of music, while encouraging a positive attitude and increasing self-confidence. Based on a unique curriculum, each class includes activities involving songs and rhymes, basic dance steps and movements, fine and gross motor skills, rhythm instruments and movement props, creative play, socialization and fun! Sing, dance, play and learn with us today!
Learn more


---
Windy City Sports Academy Fall Classes and Leagues - Boys & Girls (Ages 3-13)
After-school and weekend youth classes and leagues at Windy City Fieldhouse are now open for registration. Fall programming runs from September 4th-November 3rd including the

Windy City Redhawks Boys Travel Basketball

. Programs focus on learning rather than winning, allowing children to develop sports skills in a safe, fun and encouraging environment. Fall leagues include a NEW Game Time Basketball League plus registration is open for its Winter Soccer League running November 16th - February 8th.
Learn more


---
Register today for Emerald City Theatre's Fall Classes - Now serving ages 2 - 15!
Join our professional teaching artists for inclusive, ensemble-based instruction focused on self-confidence, collaboration, creative thinking and having fun! Class themes include Descendants, Hamilton, Freaky Friday, Coco, and more! Classes begin September 10, 2018. Each class includes a final showcase for family and friends during the week of December 3 - 9.* Register online at EmeraldCityTheatre.com or by phone at 773.529.2690. * Grown-Up & Me: Peter Rabbit for ages 2 - 4 has no final show.
Learn more


---
One-of-a-kind brain-based classes for 0-5
Bubbles Academy is Chicago's premier early childhood arts enrichment center and half-day/full-day preschool, empowering children with the gifts of confidence, curiosity, and creativity! Join our compassionate team of teaching artists for classes in art, music, movement and more for children ages 0-5. Thinking about preschool soon? Experience a joyful transition to preschool with our "Preparing for Preschool" child-centered progression through art and play-based curriculum.
Learn more


Find more options in our Classes & Activities guide.