Fall is just around the corner, and it's time to register for fall kids classes! Find the best classes for kids in Chicago in our Fall Class Guide. You'll find great kids classes for art, dance, cooking, gymnastics, music, yoga, sports, STEM and more! See below for some of this Fall's hottest classes, and register now to save your spot.
---
Fall's Hottest Classes
---
Enroll Now for Weekly Classes (Ages 4 mos-12 yrs)
At The Little Gym, we believe that motor-skill development, made fun, builds confidence that leads to a lifetime of success. We provide a safe, nurturing environment that allows kids to make mistakes in a non-competitive environment. Classes use a gymnastics-based curriculum that focuses on progressive growth as our main vehicle to help kids grow 3 dimensionally in our age-appropriate classes for ages 4 months- 12 years. Reserve your spot now for our school year season or set up and introductory visit to come check us out.
Learn more...
---
Rock 'n' Kids Early Childhood Music!
Who's ready to rock?! Rock 'n' Kids is excited to provide over 100 class options for families this school year! Rock 'n' Kids provides in-person Tot Rock and Kid Rock music, movement and imagination programs for children ages 1-5 at park districts throughout Chicagoland! The in-person program has been successfully adapted with everyone's safety in mind! Class activities include work on fine and gross motor, rhythm and coordination, imaginative play, sensory integration, listening skills and fun! A variety of rhythm instrument and movement props are used! Class registrations are accepted at partnering park districts directly.
Learn more...
---
The Paintbrush: Signature ART Classes In Person and Online
At The Paintbrush we see the artist in every child and nurture their sense of wonder and creativity through hands-on artist lessons, drawing, painting and specialty classes, workshops, birthday pARTies, camps, and open studio time. Our classes are ever evolving in variety. In-person classes are available for kids ages 1-12 at our new boutique studio. Online group and private classes will remain available. In-person and virtual ART pARTies (for kids and adults), too! Do-At-Home ART Kits, and so much more for kids of all ages! to ART pARTies (for kids and adults), too! And so much more for kids of all ages!
Learn more...
---
Early Education You Can Feel Great About
Choosing early education and preschool is a big decision, and we want you to feel great about your choice. Learning starts with counting fingers and toes. Before you know it, it's time for chapter books and multiplication tables. In between are the building blocks of education, where young children establish the foundation for a lifetime of learning. Our carefully crafted education programs are there for every step - age appropriate and custom-designed to encourage curious, happy, and confident children at every age and stage.
Watch our video
for a sneak peek into Bright Horizons, and
find a Bright Horizons location near you
to schedule a tour today!
---
Sports, Fitness, and Tumbling Classes!
Fit City Kids' Classes have been designed specifically to deliver fitness through fun! Each class is structured to promote growth and development in each of our young athletes. Classes begin as early as 6months old and go up to age 12. We also offer one on one sports and fitness training for the entire family. Check out our website and inquire about a FREE class trial! We offer several classes throughout the week including fitness, tumbling, basketball, soccer, and more!
Learn more...
---
What is the Engine Behind a Child's Love of Learning?
Over the past 15 years, there has been an increased emphasis on children's social and emotional development in early childhood and elementary education. On the surface, the benefit of nurturing this type of development may seem obvious - children who can get along with others will naturally be happier in and outside the classroom. However, the benefits of social and emotional development go much deeper than a child's ability to make friends. This part of a child's development has lasting effects on their learning and academic success. So how is a child's social and emotional development nurtured? And when does this take place? Read the full blog
here
. Learn about Smart Love Preschool's approach to early childhood education
here
.
---
Academic Programs for Students PreK Through Grade 12
Center Talent Development (CTD) at Northwestern University helps young people PreK- grade 12 find their strengths and interests and create their unique talent development path. No student is born with a set destination. CTD believes that talents, passions, and goals are discovered and nurtured through exploration, experience, and mentorship. Through CTD's assessment, academic enrichment, and accelerated course options, students discover what they truly love to learn and how to reach their full potential.
Learn more...
---
Soccer for Kids | Professional Coaches | PSG Soccer Academy
At our training sessions you can hear laughter and words of encouragement while children are trying to mimic the moves of their coaches. We offer beginner friendly and highly competitive programs. Our staff of US Soccer Federation licensed coaches ensures that each student receives technical and tactical instructions in a positive environment. Spots fill up quickly, don't miss the fun and register today!
Learn more...
---
Get Ahead in Math by Enrolling with RSM
Russian School of Mathematics is an award-winning after-school K-12 math enrichment program with locations in 13 states and a virtual classroom. Recently featured in NPR and the Atlantic magazine as one of the key players in the "Math Revolution," and ranked one of the best schools in the world by the Johns Hopkins Center for Talented Youth, RSM helps children of all levels build a solid math foundation and develop their critical-thinking and problem-solving skills. We develop math fluency, intellect, and character. RSM opened five branches in Illinois to serve local communities:
Buffalo Grove
,
Schaumburg
,
Naperville
,
Skokie
and
Wheeling
. Select your branch to see the schedule and enroll for Spring & Summer semester today!
Learn more...
---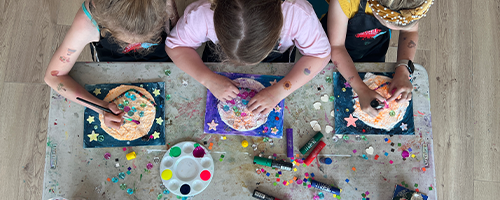 Easel Art Studio: An Art Studio for Kids (16months-11years)
Discover Easel Art Studio, an enchanting haven for budding young artists in the heart of Chicago. With a passion for creativity, we unleash your child's imagination through a diverse range of art classes and workshops. Our expert instructors foster each child's unique talents and confidence. Students learn in an inclusive and nurturing environment. From vibrant paintings to captivating sculptures, our students explore various mediums, developing essential artistic techniques while embracing self-expression. From classes to birthday parties, at Easel Art Studio we celebrate every brushstroke and masterpiece, cherishing the joy of creative exploration. Our small class sizes ensure personalized attention, creating an enriching environment where creativity knows no bounds. Unlock the magic of art today!
Learn more...
---
FAMILIES can learn MANDARIN or SPANISH while spending time TOGETHER and HAVING FUN!
It is a wonderful opportunity for all the families to spend time together and have lots of fun while learning a language online (Spanish or Mandarin) from a native speaker teacher. Classes are focused on the children's ages but the activities include all the members of the family. The schedule of the classes are according to the family's needs. Every member of the family will receive a Certificate of Completion after each 10-weeks level. For more information, contact us at
paola@totuslingua.com
or check our website
totuslingua.com
. Give your family the privilege of learning a language together at your home while having lots of fun!
Learn more...
---
Find more options in our
Online Class Guide
.